Can you imagine how great it would be to have a LIFETIME INCOME set up?

One that would last as long as you do? I'm talking about lasting until you are 110, or 120 years old! Imagine the peace-of-mind you would have knowing that was set up and in place.
After all, 61% of Americans fear running out of money during retirement MORE than they fear death itself. Imagine not having having that fear, or having to worry about where your retirement money was going to come from. Do you think you would live longer and live healthier… knowing you don't have to have that stress and worry hanging over you all the time?
?
The Barefoot Retirement Plan can make this a reality for you.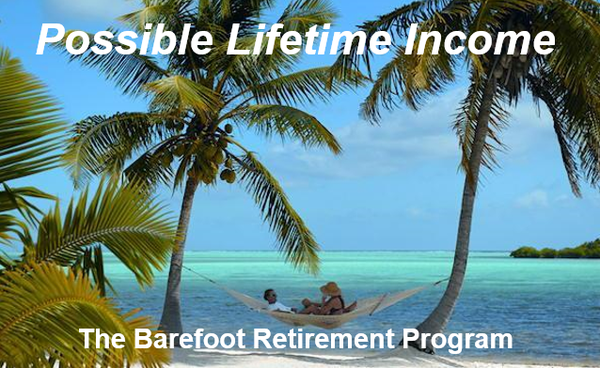 Okay, so lets take a closer look at this and find out WHY the Barefoot Plan is by far, superior to ANY other plan out there. To help and understand it, lets compare our plan to a traditional 401(k) or an IRA. The illustration below shows how you make contributions to your 401(k) and/or IRA during your life. Typically when you retire, your contributions stop. Also, most people move their retirement funds into super safe, very low interest rate investments. They start drawing the funds out to live on during retirement. Most people draw out much, much more than the tiny amount of interest they earn on their account. Thus, the total amount of retirement funds gets lower, and lower and lower. It eventually runs out. If you are still living at that time, that's really bad news because you are then completely out of money. Plus, you have to pay the PREVAILING TAX RATE on ALL of the funds you take out. All of them. Do you know what the tax rates will be when you retire? No one does. With all of the debt our country has racked up, there is no telling how high tax rates could be at that time. What if they were 40% or 50% at that time. Could you afford to give that much of your retirement funds to Uncle Sam?
?Most people's only solution is to hope they have a ton of money in their 401(k) and IRA. Hope it won't run out before they die. And hope tax rates will not be too high at that time. This doesn't sound like such a great plan to me.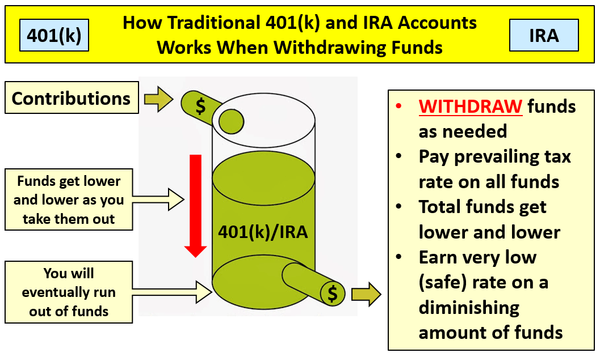 Okay, are you ready for this? Let's see how the traditional method above, compares to the Barefoot Retirement Plan. The illustration below shows how you make contributions to your Barefoot Retirement Plan during your life. Here is the BIG, BIG, BIG difference in these two plans. With the traditional plans, you WITHDRAW your retirement funds from your account, thus your account gets smaller and smaller. With the Barefoot Plan, you BORROW your retirement funds from your account! Since you BORROW from your account, your account value does not go down when you borrow from it. (It's kind of like when you borrow money against your home, the value of your home does not go down. It remains the same.) Provided you funded and managed your Barefoot account properly, (and we show you how to do that and help you do that), you can borrow up to the total value of your account, and neverhave to pay back the loan. And it just gets better. Check this out…. Since your account value does not diminish when you borrow against it, you continue to earn the 0% to 17% blended index return, on the TOTAL VALUE of your account. This is huge! In case you did not get this, here is a quick example. Let's say your retirement account has a value of $500,000. If it is a traditional 401k or IRA, you are probably only earning about a 1% safe return on your funds. And your funds continue to go down as you withdraw them. Perhaps 10 years into your retirement, you may only have $200,000 left, so you are now earning the 1% on only $200,000.

?With our plan, you can earn the 0% to 17% a year on your full account value. (Over the past 24 years this has produced an average return of 9.24% per year.) So lets be conservative and say you only get an 8% return per year. The key is, you get that 8% on the ENTIRE $500,000 account value… each and every year. Do you know how BIG this is? It's HUGE!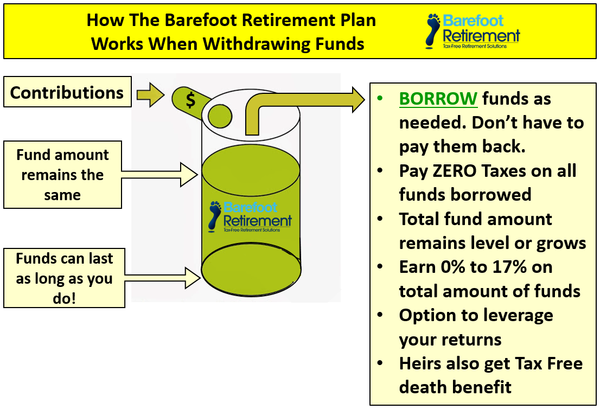 Plus, ALL of the funds you BORROW out to live on during retirement are 100%
TAX FREE
.
You get to keep ALL of it, and give
nothing
to Uncle Sam.
This one benefit alone could save you as much as 40% or 50% or more of your retirement funds.
How big is that? We can help you structure a plan that can generate a tax free income that can last you until you are 110 or 120 years old. And, when you pass away, your loved ones will likely receive a nice, tax free death benefit… something you just don't get with the traditional plans. I told you this was America's Most Powerful Retirement Plan, and it truly is. The best way to get your questions answered and see what a plan like this can look like for you, is to simply give us a call. We are happy to talk with you and find out what your specific needs and desires are. We can then run some analysis for you and show you various options, in black and white. And of course, we do this completely free and without any obligation what so ever.
Until next time, we wish you the barefoot retirement of your dreams.
?
God Bless,
Doyle

Doyle Shuler
Co-Founder, Barefoot Retirement
866-480-7784
www.BarefootRetirement.com
PS.
Have you watched our webinar yet? You can find out a TON more about this amazing plan and how you can generate a LIFETIME Retirement Income of your own. Click the link below to schedule a webinar date and time that works for you.
www.BarefootRetirement.com/webinar